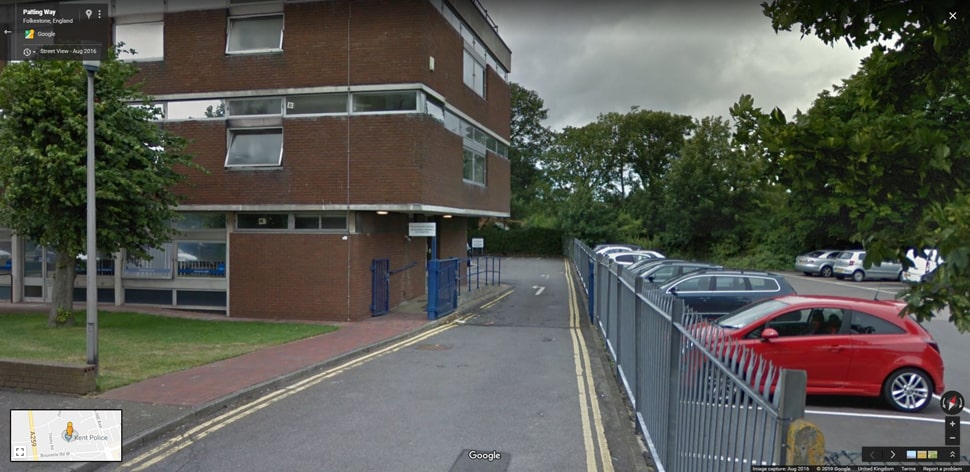 Folkestone Test Centre.

This can be booked online at the same web address
www.dvsa.gov.uk
.
The fee is currently £62 ,
please quote your Instructor's A.D.I reference number, mine is 103429 or
Business Number 5668.
The Folkestone Test Centre address is:
[Car park is behind Palting House, DVSA Test bays,
are marked out in yellow].
Palting House,
Trinity Road,
Folkestone,
Kent.
CT20 2RH.
Telephone: 01303-252566.
On the day of your test, take with you:
* Take your licence.
* A copy of your e-mail appointment letter.
* Spectacles, if you need them.
* If your address has changed, when you pass, you will have to fill in the
forms and send them to D.V.L.A. to obtain your full licence.
Otherwise the Examiner will do this for you.
If you are taking the test in your own car, you must provide a car that has:
* Standard number plates.
* Insurance for you and the Examiner, Road-legal tyres.
(1.6mm across the central 3/4 of the tyre free from cuts or
sidewall defects).
* Seat belts for you and the Examiner.
* Car is reasonably clean.
* Interior mirror which is adjustable for the Examiner.
* Head restraints.
* Standard size 'L' plates front and rear.
* Current MOT certificate ( if the car is three years or older).
After having signed the
Driving Test Report [ thiis is now marked on a LapTop]
in the Test Centre waiting room and asked if you want your Instructor to accompany you on Test; you will be asked to lead your way out to the car. In the car park you will be asked to read a number plate at 21m distance (70ft) with or without spectacles, if you require glasses to read the number plate, then you must complete the test with them on (01 is the spectacle code on licences).
Failure to read the number plate after three attempts, the test is abandoned.
You will be asked one combination
" Show me Tell questions ".
Driving test changes: 4 December 2017
.
* Independent Driving with instructions from Satellite Navigation.
* One in five Tests will ask the candidate to " Follow the Signs too ... "
* Parking next to the kerb on the right hand side of the road.
* Parking in front wards to a car parking bay and reversing out.
At the end of your test, your Examiner will tell you the result of your test and offer a debrief. You will be asked if you want your Instructor to be present - you should say "yes" to this.
New Driver Act 1st June 1997
When you pass your test, you are on a two-year probation; you will have only six points to play with, not 12 for experienced drivers.
If you breach these conditions, you will need to obtain a new provisional licence, take another theory test and pass a practical test.
The Road Traffic (New Drivers) Act 1995
applies to every motorist who passed their first full test after 1 June 1997.